That picture could be misconstrued in so many ways...but I digress. So yesterday was officially my 35th B-day. I woke up out of bed and just laid there looking at the ceiling waiting for some special ZAP to come over my body. It didn't happen, so I just got up as usual and stared at the wall near the left side of my bed. After rubbing the sleep out of my eyes a few times I slowly raised up off the bed and did my normal shake out of my body to listen to what might crack first.
My parents wished me happy birthday and gave me a really great card.
So I decided around noon to get out and what greets me at the side entrance when I open the door? A sheet full of ice on the ground. Apparently the weather decided to say HELLO with some ice rain that morning. So I was walking very slowly towards my car. So I would avoid this..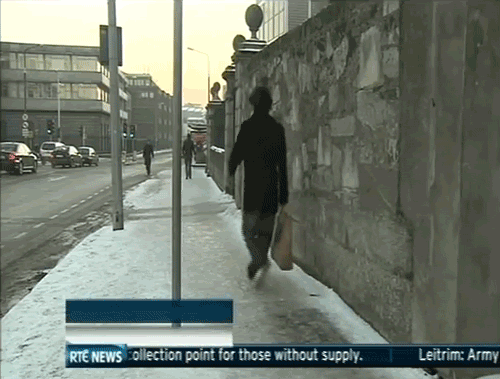 So I make it to my car safely and make my way down to the Central West End. I wanted to stop by SubZero and pick up my birthday bottle of vodka. What I did not remember was that you had to actually eat there first. So it was empty except for 2 other diners and I decided to sit in the add-on area. I ordered a mixed drink, shrimp tempura, and a Philadelphia roll tempura style.
Blue Raspberry Lemonade Martini
Shrimp Tempura
Philadelphia Roll Tempura
Once I was done and the waiter verified my I.D., he brings me my gift in a gift bag and makes the statement that I received a really nice bottle. When I took it out of the bag I was like, JACKPOT!! It was a brand I enjoy and it was in my
FAVORITE COLOR!!!!
Afterwards I went across the street to the Golden Grocer to check out some items. I then strolled around to some other stores and then decided to leave the area and make my way to Best Buy to pick up some items for the house. By this time it was about 2pm and I knew I was LONG overdue for a manicure and pedicure. I went by my regular place near the former Northwest Plaza but they were closed. So I went to another shop that I'm familiar with just a few blocks down and the lady there by the name of Lynn hooked me up. She took care of my hands, feet and also waxed my entire face. I know it sounds brutal, and it somewhat is unless you are used to it, but I only get it done once every 4 to 6 months. It hurts like hell but the results leave your face so darn smooth!!!
So after that great treatment I go home and setup some stuff. By this time the AT&T person has finished up fixing our service issue at the house which we learned was caused by a SQUIRREL!! So I then have to leave AGAIN because of a accessory issue, so I go back to Best Buy to do an exchange out. I meet up with my boy Nolan and we go to the Delmar Loop and enjoy dinner at Fritz. We sat on the second level and just a blast talking about everything we could think of. I enjoyed a Orange Soda Float - Birthday style! and for dinner I was treated to a burger and a side order of pineapples. Then I received a birthday pineapple upside down shot.
Orange Soda Float
Pineapple upside down shot
Afterwards they surprised me with a surprise birthday root beer and then I took a picture with Nolan to remember the evening.
Nolan and I parted ways around midnight and I made my way back home. I bought a salad from Fritz to take home to my mom and she informed me that my lil sis had left me a birthday card. So I go upstairs and wait till I'm relaxed and open the card. Here is the front.
After reading it and trying to open it up for about 50 seconds, I finally turned it over because I thought the card was defective. Well the joke was on me but it was a damn good one.
I sent her a text message saying Thank you and I made sure to log on to Facebook and thank everyone who sent me birthday wishes as well as to those who sent them via text and other social media services. Also I cannot forget two of my besties, Danielle and Kamina for my WAY EARLY birthday dinner earlier this month by like......two weeks?? LOLOL
Today, Feb 18th: Well I will say I did enjoy my B-day weekend and know that there are some other things still in store for me this month. Yet I know the best is yet to come and not just talking about my birthday, but about my life. I really am trying hard this year to make changes for myself and break long standing habits that have not been good for me. All I can say and ask is just don't give up on me:) Love, Jazz
Until the next episode....